ISOLA course at Bogota, Colombia, October 2013
by
Efthimios Sokos and Jiri Zahradnik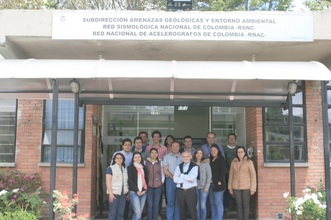 A training course on ISOLA was organized by the Geological Survey of Colombia. The one week course (September 30 to October 5, 2013) was held at Bogota and was attended by twelve participants. The course included theory of moment tensor inversion and practical use of ISOLA for single and multiple point sources. The participants applied the code to their data sets and presented their results.
For a list of participants
click here
.
The course syllabus is
here
.
Presentations of the participants on results obtained using ISOLA can be found here.
Finally course material (codes and data used in the course) can be found
here